You'll see the Filter tools on any page that shows a group of products: a promotional group, a product type (rings, bracelets, etc.), or a Collection page. On desktop, Filters are on the left side of your screen, on mobile they're at the top.
FILTERS ARE EASY!
YOU CAN FILTER ITEMS BY:
Type, Collection, Size, Color, and Price.
NOTE: Filters show results for the page you're currently viewing, not the entire site.
TYPE:
Click the '
+

' to expand a listing
Click '

–

' to close a listing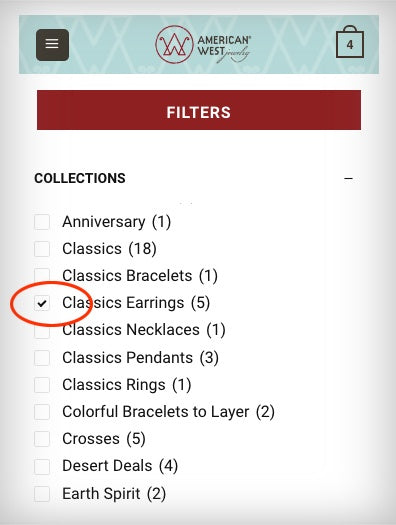 COLLECTION:
Click the Check Box next to the Collections(s) you want to view
STONE:
Click the Check Box next to the Stone(s) you want to view.
SIZE:
Click the Check Box next to the Size(s) you want to view.
COLOR:
Click the Color Dots to show items that include that color. You can select more than one!
PRICE:
Move the slider left and right to show items within a range of prices.
RESET:
If you want to go back to the default settings, just scroll down and click the RESET button.
If you have any questions or need help please feel free to contact our Customer Service Team at:
Or feel free to call us at: 1-800-827-6543 and we'll be happy to help!
Due to the COVID 19 virus our customer service team is working remotely and / or on an abbreviated schedule.
You can also contact us through the American West Jewelry Facebook or Instagram pages.
We thank you for your business and appreciate your continued support.
Thank you.