Bill Pollack started making jewelry in a small shop in 1975. I grew up designing my clothes and my mother would bring them to life. Later, I pursued a career in the jewelry industry. This love of jewelry ultimately drew Bill and me together in 1993 and it's been our passion to make Handmade American Southwestern Jewelry ever since.
While most companies in the jewelry industry in the American Southwest have long ago closed or moved their production overseas, we remain passionate about keeping this important art form alive in the Southwest. And more importantly, creating a company that welcomes, mentors and provides opportunities to many. Over the years, hundreds of people have been an integral part of our successful team. Most of our skilled artisans never made jewelry before joining us. Now, they come to work each day excited about the challenge of their work and the pride creating each new piece of wearable art brings them.
We know that what happens within our company is unique and amazing. We are humbled by the dedication of our associates, many of whom have been with us more than 20 years. We know they have other choices, that creating jewelry to the highest quality standards we require is a challenge. There are easier jobs available, as well as the option to leave the workforce all together. But our team, our family, is special. They are proud, dedicated and appreciative people who exude the American dream.
We are proud to say our jewelry is Handmade in America. But what does that really mean? It means we are a team of people who are grateful and proud to come to work each day, to give our best; eager to collaborate with others, to learn, teach and grow together. Bill and I couldn't be more thankful and proud. Here are a few of their stories.
Jobs become careers
Many of our team members share a common story; they took a job with Relios (our Parent Company for American West Jewelry) and that job became a career. We're so delighted that this is the case—that we could provide these opportunities and the warm family environment that helps them to grow.
"This year will mark 28 years that I've worked at Relios. I started in the casting department and from there moved to Quality Assurance. I am now the Director of Manufacturing and work closely with the Marketing team. I really appreciate the opportunity that Relios has given me for growth and learning. I have seen many other associates also grow into new positions, which has been a great opportunity for them as well. Our culture here is great, as other individuals have stated. We get along great, and it feels like family. I really enjoy seeing that our employees have cross-trained and embraced the many manufacturing processes so that we can move resources around as needed for our busy times. I have to agree with many here that our designs are top-notch, and we really enjoy seeing what's new. We have been challenged with new processes and I feel that we invest the time to figure out the best ways to accomplish them. It is fun and heartfelt to hear other employees' stories of how they love working here and how they have grown in their personal lives with the opportunity that Relios has given them." ~Chris 
"I have been a part of Relios for 24 years. I love the art of creating silver from the wax into a finished piece; when the wax burns out from the oven, and seeing the liquid silver become a piece of solid jewelry. I love to see the new designs. I buy our jewelry every week, you should see my invoices! My wife loves to wear our jewelry, especially bold pendants, sometimes she wears five at a time! She loves the weight and sculpture of our silver. She opens the box and says WOW! As a nail technician, she sees a lot of ladies every day, and they always compliment her on her jewelry. She gave the bumble bee pendant to a client who was ill, which brought both of them much joy. I love to work here, it's fun. I love all the people, the managers and the owners too." ~Quynh
"I started in assembly 22 years ago. Now, I like to help with design. I like to see stones and colors come together. I like to make samples and there is something new to work on every day. Oh, my family is very happy when I give them jewelry, and I include a picture of me making the design. They are very proud of me." ~Esme
We recognize and nurture talent
We want to increase local opportunities and strengthen our community. It's been our great pleasure to nurture our team of homegrown artisans. Individuals willing to work hard and grow with American West Jewelry. They learn how to make heirloom jewelry with amazing mentors to guide them. If specialized training is needed off-site, we'll get them that training too. 
"I started in the wax injection department 16 years ago. I have worked in every department over the years, which helps me with my computer-aided design (CAD) responsibilities now. I know what will work in production, and I bring that to my CAD work. I have always been interested in CAD, so my co-workers helped me learn the basics, and then Relios sent me to school in California. I love what I am doing now. I am thankful for the opportunity Relios has given me. I am very happy." ~Monica
"I've been working at Relios for 7 years. I just love learning new things and working with different types of jewelry. If there is a problem, I love to find a solution. I enjoy training other people, it helps me a lot, and I know that everyone is doing a good job. This is a fun job, I love it, and my Grandma loves watching Carolyn on QVC. She is proud of me, and the beautiful jewelry we make." ~Raymond
"I came to Relios 7 years ago. My family was interested in gold, but I was interested in silver jewelry. All of the processes we do here are truly amazing. It's not easy, but that is what makes it rewarding and interesting. I love the guys here. I am grateful that people come to me for help. Our family is a Team, we help each other." ~Giovanni
A path to the American dream
Our commitment to staying in Albuquerque, New Mexico, when so many others have left, means our employees have a stable place to work in the Land of Enchantment. We know it's the right thing to do, to make sure that their hard work can lead to dreams like home ownership, family stability and sending kids to college.
"This was my first job, and now I've worked at Relios for 12 years, I love it very much. I am really motivated, and I like a challenge. I buy our jewelry for my mom; she is very proud of me. I thank Relios for helping me buy my house. I like everybody at Relios, everyone is my friend." ~Kenia
Finding joy at work
You can hear how our team feels about coming to work, the work they do and their co-workers. They are passionate about making Southwestern jewelry and love doing it. It's an increasingly rare situation, to have a positive, stable, jewelry production studio based in the USA.
Joy you can wear
After more than 45 years of creating Southwestern jewelry, the skills and talent of our team are exceptional. Each new design passes through the hands of one expert after another—with everyone giving their absolute best.
Our collectors recognize something very different about our jewelry. The design, beauty and quality also come with good vibes. It's subtle magic we know comes from our team. Each piece is made by a loyal team of dedicated people who love where they work and where they live.
The Southwest and its ancient traditions inspire each new creation. We weave traditional design elements into each piece, including iconic Squash Blossom necklaces, Najas, Native Pearls, Cluster pieces and Concha designs– Watch this team's amazing process in the video below.
Shop our Classics Collection and discover the key pieces at the core of a Southwestern jewelry wardrobe. Each necklace, pendant, bracelet, ring and earring are made with genuine gemstones and reclaimed Sterling Silver. Our skilled artisans work with the highest quality materials and lovingly capture the essence of Southwest style in every piece they create.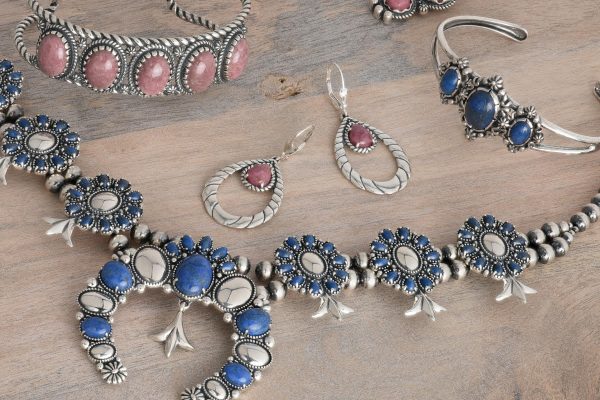 From all of us at American West Jewelry ~Thank You!