Weekend Wine And Sunshine! Summer time means festival time! I was so excited to kick off the festival season at the annual Albuquerque Wine Festival over Memorial Day Weekend. One of my favorite things about attending festivals is the inspiring bohemian looks they bring that beautifully reflect the joy and freedom of summer.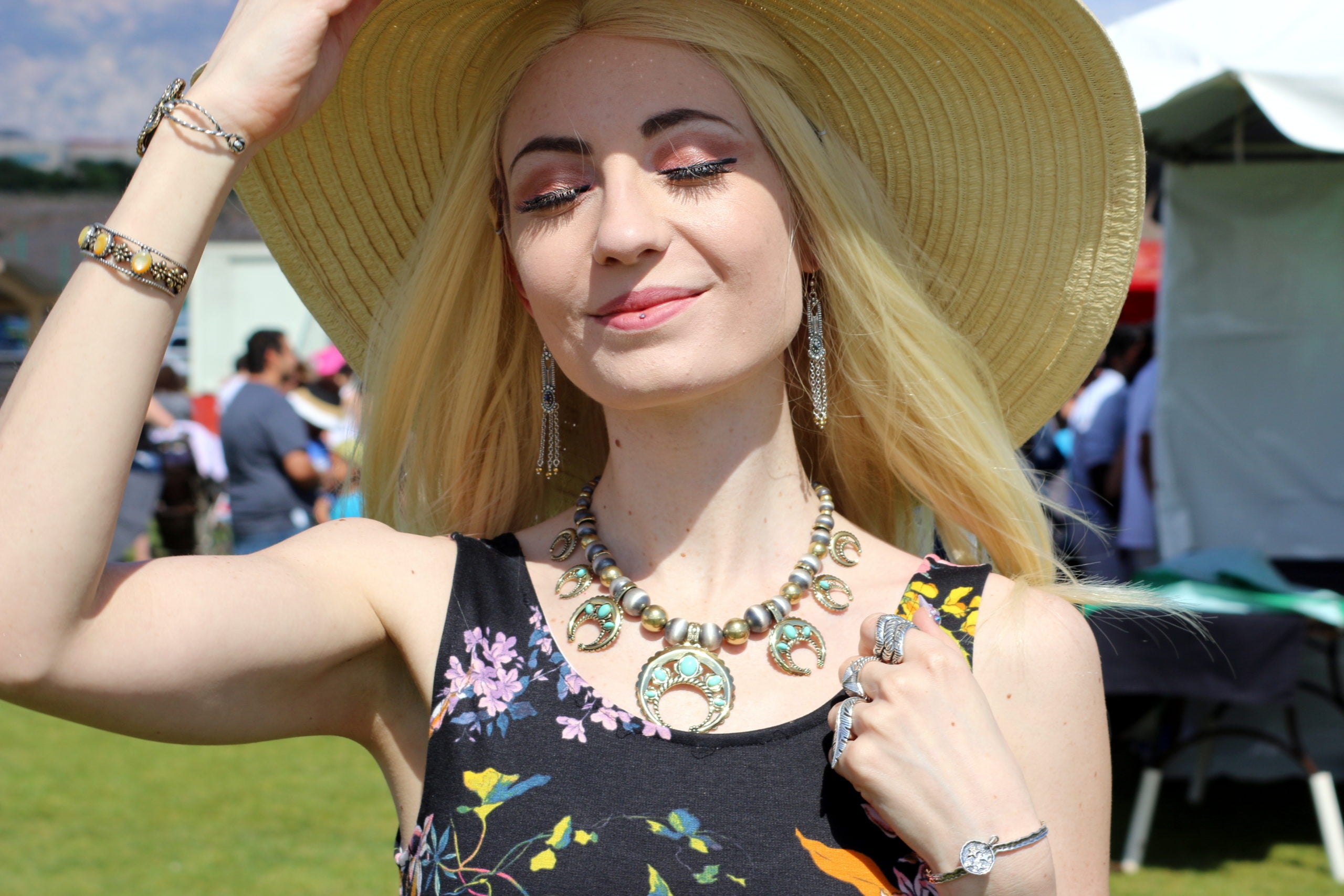 The wine festival held in my home city is no exception to this as thousands of New Mexicans gather at the Balloon Fiesta Park to soak up the sun and sample the most delicious wines our state has to offer.
Festivals of any kind are a fantastic chance to show off how we're wearing the latest trends and lasting favorites and it's no secret that the festival boho chic look is one of the biggest trends in fashion this year. To me, nothing brings this fresh and free-spirited look together more than jewelry.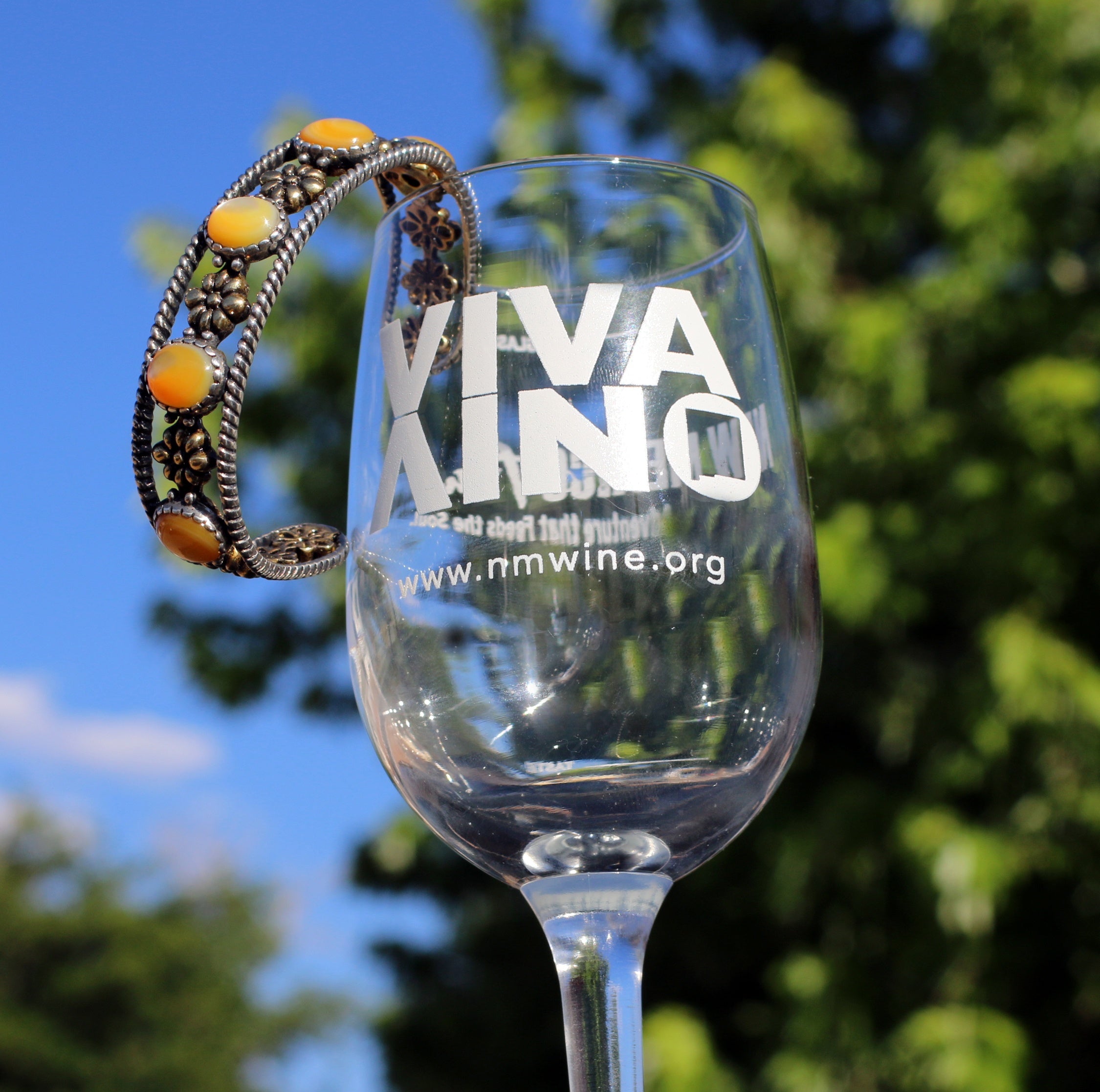 What I love most about festival jewelry is that there are no rules. I can mix and match my pieces to make a statement that is authentically me. And in a large crowd of people, it feels good to stand out. At festivals, my style tells my story and my jewelry wardrobe helps me tell it my way.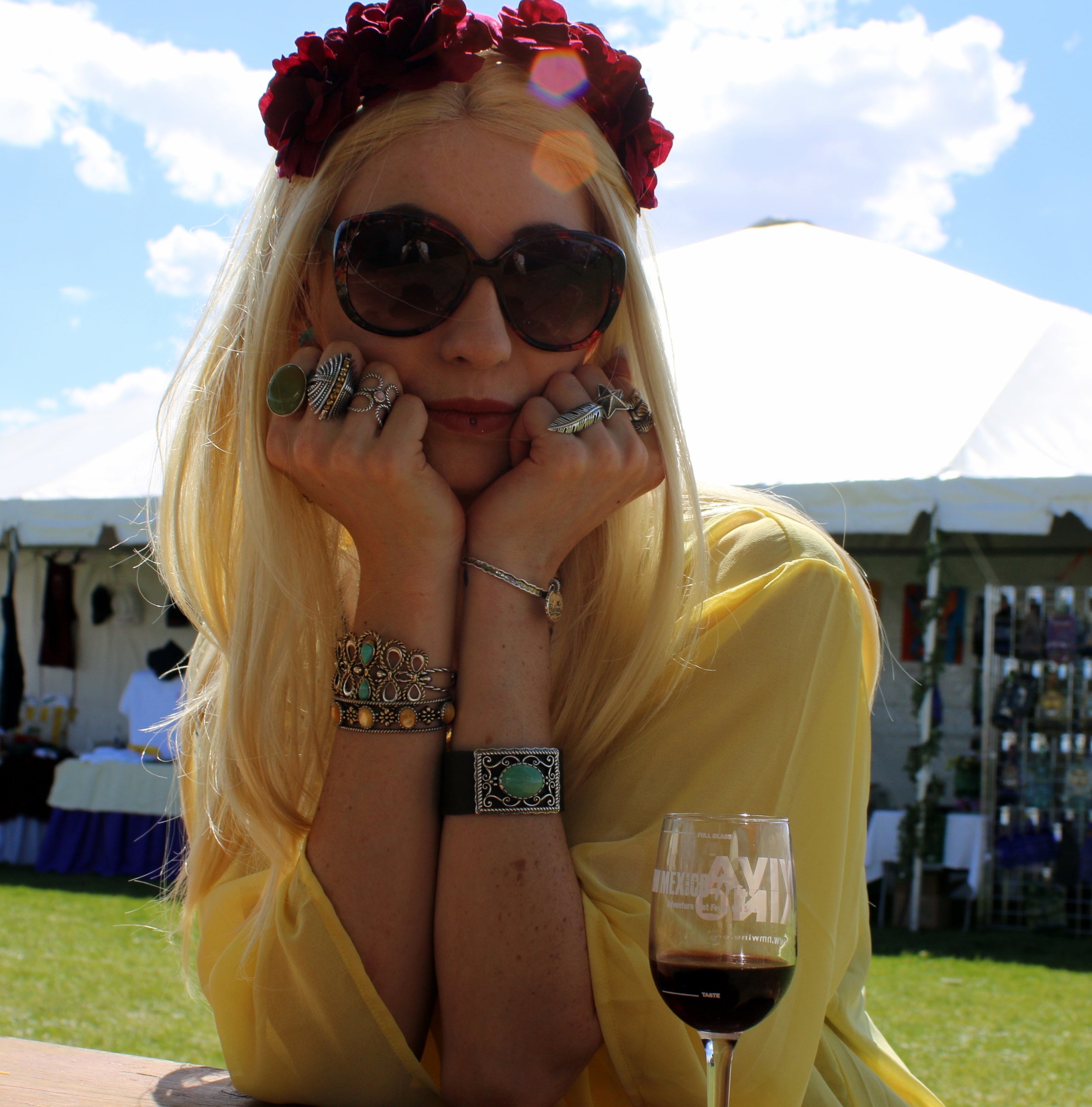 At a Memorial Day weekend festival that celebrates our rich and diverse culture in New Mexico, as well as local businesses and artisans, I felt particularly proud to wear my genuine American West Jewelry pieces that were designed right here in my hometown at the American West Jewelry Design Studio.
The true spirit of boho is rooted in authenticity and I love that my jewelry reflects this. I found myself smiling down at the incredible pure green turquoise and mixed metal naja statement necklace that laid perfectly around my neck. And the brilliant sterling silver of my bold ring choices caught more than just the sun's light, as I received dozens of compliments on them throughout the day.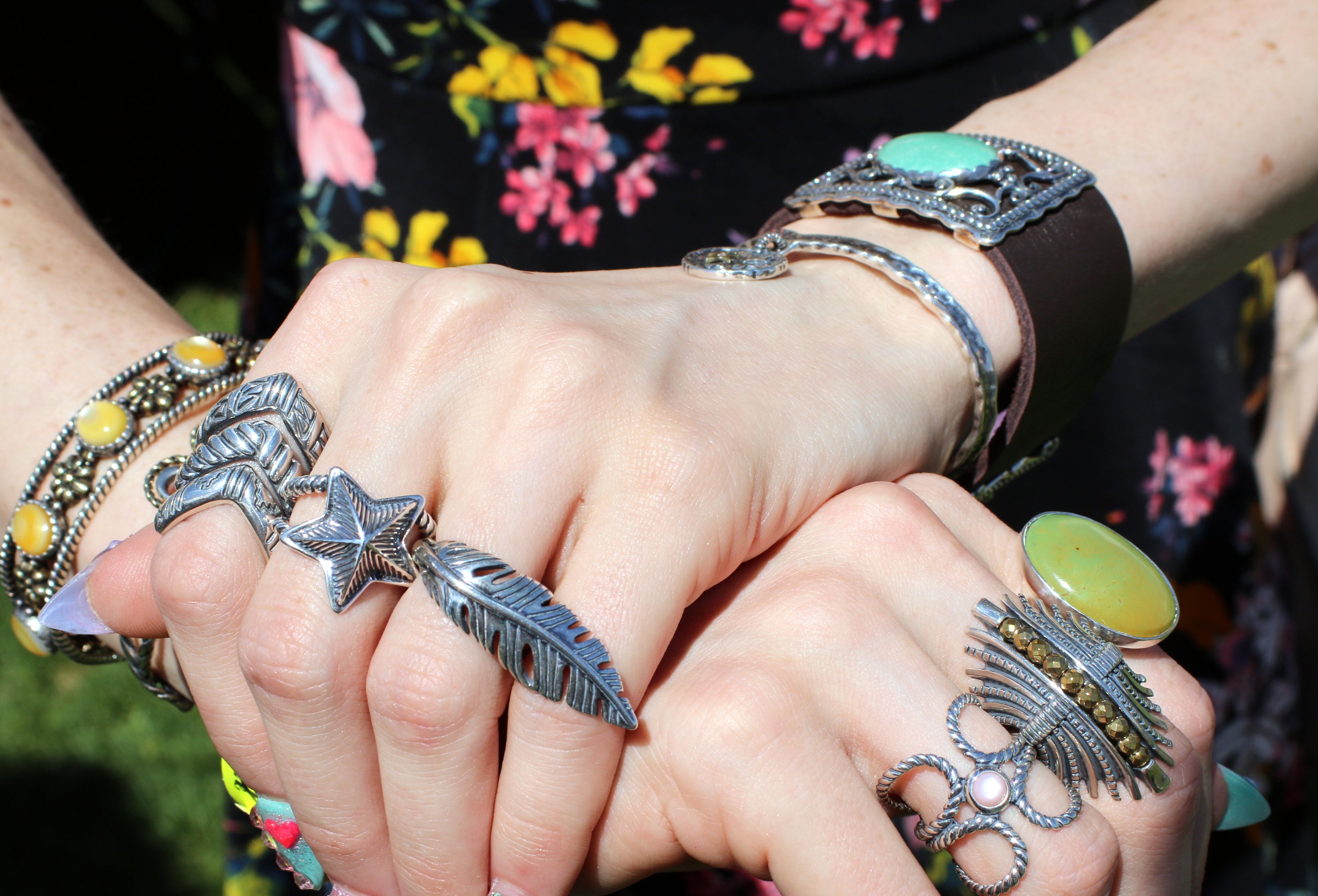 I had fun stacking my favorite cuff bracelets that are all so colorful and unique in detail! I also rediscovered my love for the most simple of the pieces, my mixed metal cuff bracelet from the Jennifer Nettles collection. Although it was by far the most delicate piece in my ensemble, I was continuously drawn to it. Attached to the feminine cuff bracelet is a dangling charm with three sterling stars and one brass star with a diamond encrusted in the center. The back of the charm is always a sweet surprise with the word "Believe" inscribed. I love this message, especially as this new summer surrounded by boundless promise approaches.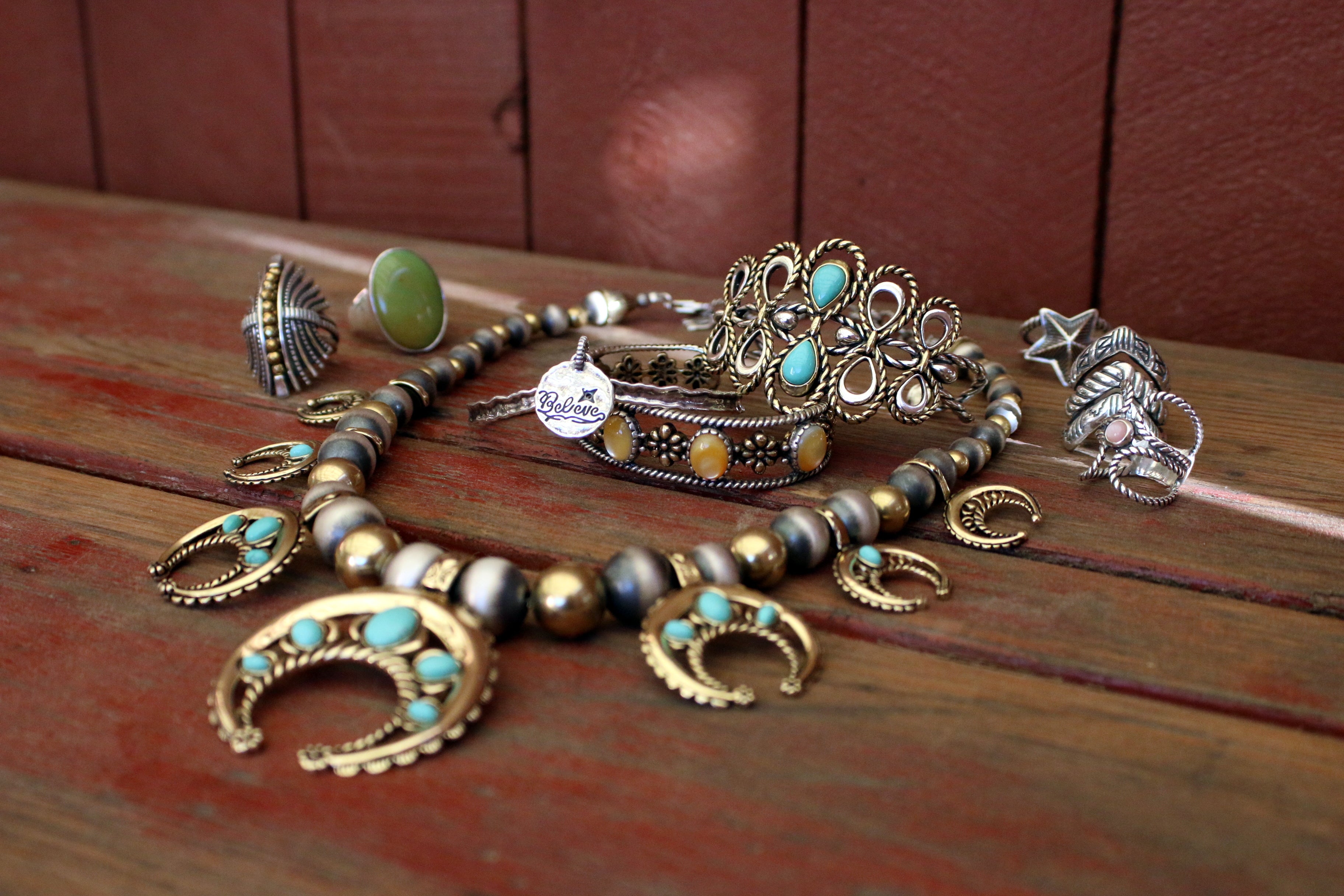 Here in New Mexico, we are often spoiled by the temperate weather and this weekend was no exception. Turquoise-blue skies stretched over the festivities and the Sandia Mountains made the perfect backdrop for my tasting adventures. Each guest received a beautiful custom wine glass for sampling and also as a keepsake from the event.
I opted to wear my staple over-sized sunhat, which was a lifesaver under the Saturday afternoon sun! I also packed a vibrant yellow kimono made of soft chiffon that kept my fair skin protected. Even in the desert, the lush grass of the Balloon Fiesta Park made walking in my platform wedges a breeze!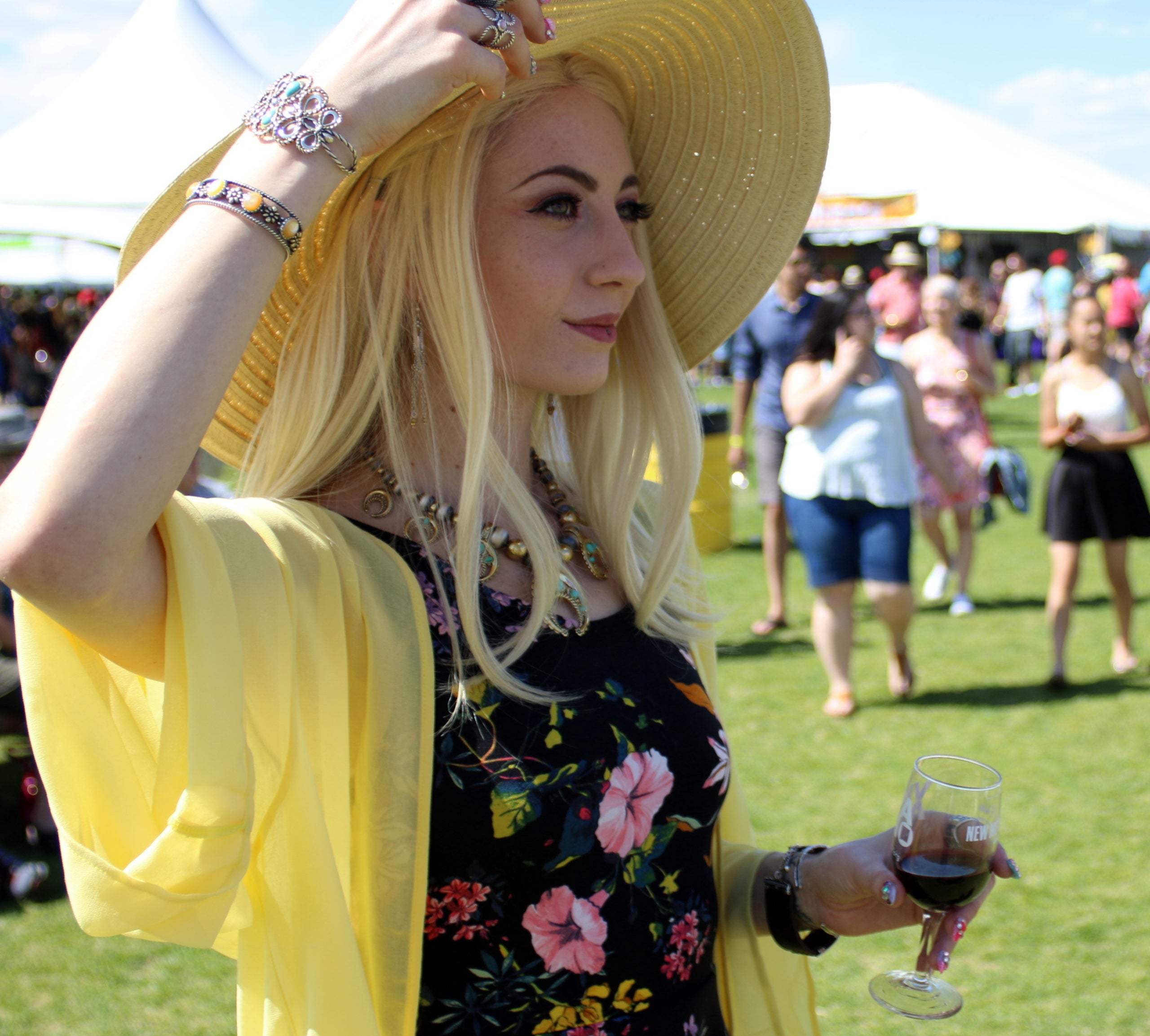 I was delighted to begin my tasting tour at my favorite local winery, St. Clair. If you're from out of state and are planning to visit us in the Land of Enchantment, I highly recommend making a reservation at St. Clair Winery & Bistro. They have locations in Albuquerque, Las Cruces, Deming, and Farmington, with their winery settled in the gorgeous Mimbres Valley in southwest New Mexico which is recognized as America's oldest wine producing region.
My favorite pour from St. Clair's is actually the Mimbres Red, a uniquely sweet, medium-bodied red wine. The notes of blackberry, honey, and vanilla create a lush sweetness and make this blend smooth and easy to drink.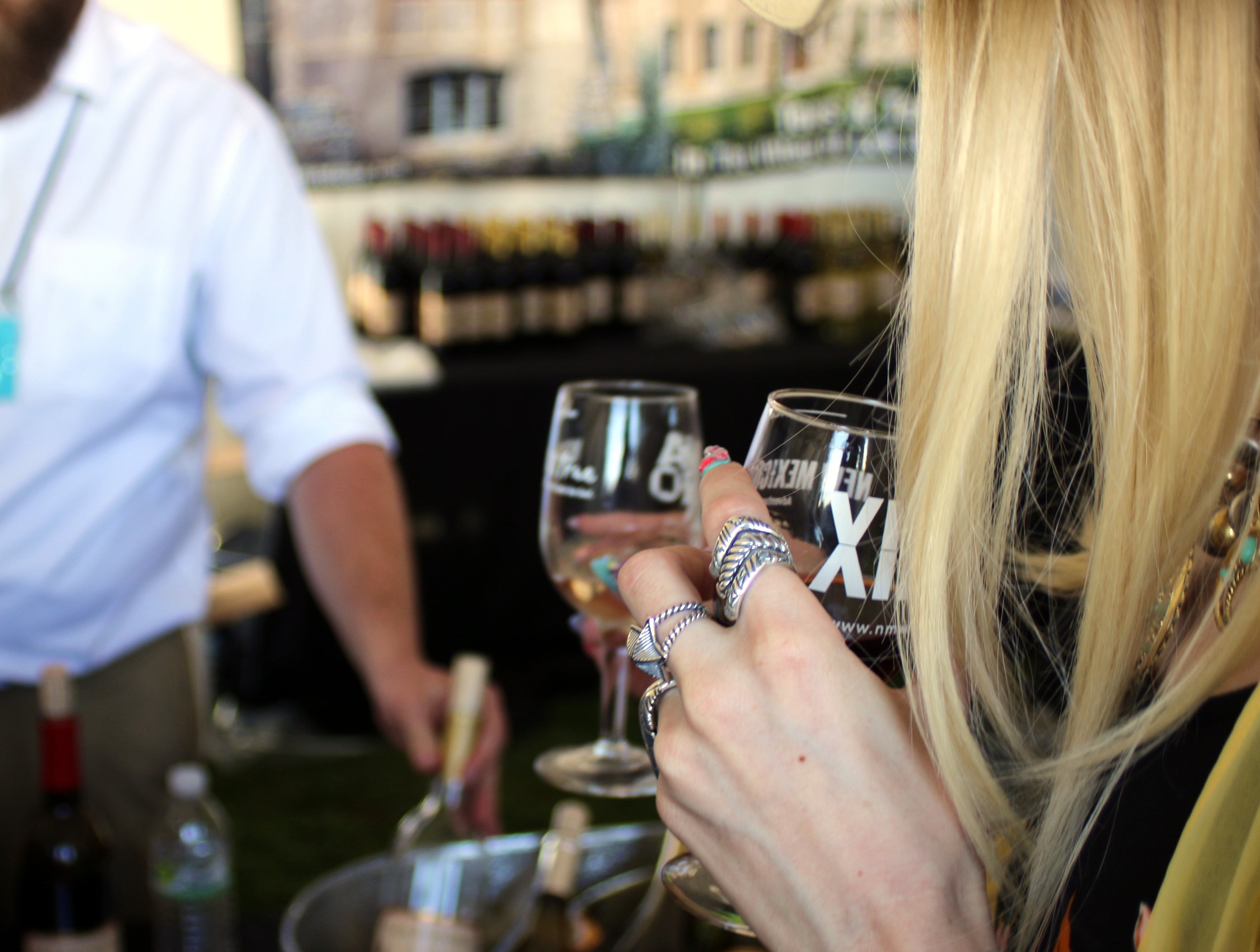 After sipping on my go-to wine, I headed to Casa Rondeña Winery, another of my local favorites. Here, I sampled several delectable dry reds before ultimately settling on a refreshing white wine called Serenade. Floral and fruity, the blend falls between a Riesling and Gewurztraminer that strikes a wonderful balance of sweetness and acidity.
This proved to be the perfect blend to sip on while soaking up the summer sun, exploring local art and enjoying this year's festival.
Thanks so much for reading about my first adventure in style this season!
What summer festivals are you attending in the coming months? Let us know in the comments below!
Cheers!