American West guest jewelry designer Fritz Casuse is a storyteller who uses pieces of timeless, wearable art to bring to life the power and beauty of Navajo imagery.  An award-winning jeweler, Fritz creates fluid, dimensional works that mix elements of sculpture with traditional designs and Navajo mythology to create truly contemporary Native American jewelry.
A graduate of the Institute of American Indian Arts in Santa Fe, NM, Fritz has been making cutting edge jewelry for close to two decades. The movement and texture in each piece breathes life into the metal and stones in surprising ways that challenge the longstanding ideas of what Native American jewelry is, often putting fresh new spins on historic designs.
The naja design was first introduced to the Southwest as an adornment on Spanish bridles, and was soon adopted into Navajo silversmithing as a pendant. Fritz has taken this classic design and given it a modern twist as a statement ring. This sleek design then takes it a step further with an alluring sloped curve in the central design that feels as good as it looks.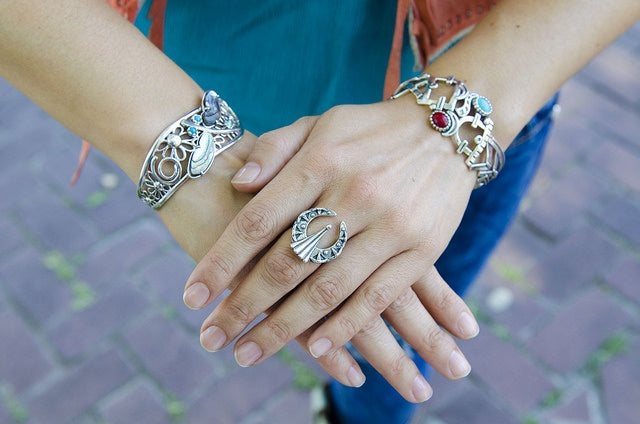 To walk in beauty is a fundamental part of Navajo philosophy. Of his take on his naja pendant and ring designs, Fritz says, "The crescent moon and stars is for a blessed journey throughout our lives, walking in beauty."
The fluidity in his sterling silver Yeibichai Cuff is as dramatic as it is delicate, a fitting combination as it is a representation, he says, of male and female Yei (Gods) "living in unity, harmony, and beauty within and all around." In mythology, red coral is associated with the feminine while turquoise is often associated with masculinity. Fritz also explains that his red coral pendant is a symbol of our inner strength, wisdom, prayers, and family.
The use of the dragonfly design in much of Fritz's work is due to this vibrant little insect being considered a messenger for a beautiful life, as well as hope, happiness and the strength of togetherness. The abalone shell used in the wings is also symbolic in that many Navajo stories have strong connections between this shell and one of their primary deities, White Shell girl.