Up-Up and Away! My how the years have flown by! It's my favorite time of year, the beginning of Fall and the launch of the happiest New Mexico event of the year, the Albuquerque International Balloon Fiesta! For 9 days, our beautiful blue skies are filled with hundreds of colorful hot air balloons. Pilots, volunteers and spectators descend upon Albuquerque to watch, cheer and assist with the mass ascensions, competitions and evening balloon glows. It is impossible to be in a bad mood, even while stuck in traffic on the way to the launch field! As the sun rises over Sandia Peak, the Dawn Patrol balloons lift off to determine the conditions in order to brief the pilots who have unfolded their balloons and have begun their labor of love, getting the balloon filled, the gondola upright and ready to lift off when the official comes by and blows the whistle. This is truly a community celebration, as once the hundreds of balloons float through the sky, one may happen to land in a schoolyard, a parking lot, or farm field. Wherever they land, they'll find eager volunteers happy to help them safely pack up.  No matter how many times we've been to the Fiesta, the joy we feel never wanes. Each year, for these 9 days in early October, I challenge Walt Disney to the claim "The Happiest Place on Earth"!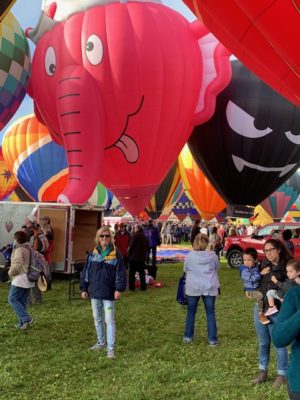 Speaking of the many times we've been to Balloon Fiesta, this year marks the 20th Anniversary of the first time we broadcast live from Balloon Fiesta on QVC! The weather was perfect, the air currents sent the balloons drifting right behind Host Suzanne Runyan and me. Even the Tequila Bottle Balloon made it's appearance!  In honor of this anniversary, I invite you to click through to some of my favorite Limited Edition Jewelry Designs.
I hope to see you at Balloon Fiesta in the future! It should absolutely be on your bucket list!
Cheers!
Carolyn