The BUZZ About Jennifer! We've selected a few choice reviews of our Jennifer Nettles for American West Jewelry Collection that collectors are just raving about!
"Love this entire set in Turquoise. I purchased the necklace and earrings too. Such a lovely petite design in such a simple flattering style. I purchased almost the entire Jennifer Nettles collection! The easy pay on many of the items helped out a lot. I always jump at purchasing items that have a cool boho vibe to them, as this is my style! Thanks Jennifer!" – ktbg
"I have been wearing this bracelet almost everyday since I received it! The turquoise is substantial and the patina finish is great! I love the darker finish on the cuff—makes it truly unique and one-of-a-kind. This bracelet is well worth the price. I'm happy that I was able to be a part of the launch of Jennifer's designs. I can't wait to see what she comes up with next!" – mnclassact
I own several Native American pieces, and this cuff is every bit as fabulous. I have worn it many times, and I receive compliments every time. In fact, the patina and hammering effect is what some people have commented on. The turquoise is a beautiful blue-green color with little matrix. The silver is substantial. Some of the reviews mentioned the lack of matrix. Sleeping beauty has little matrix which makes it more desirable. Although matrix can give the turquoise character, so it depends on what you are looking for. For me, this cuff is great. Thanks Jennifer and Carolyn" – anonymous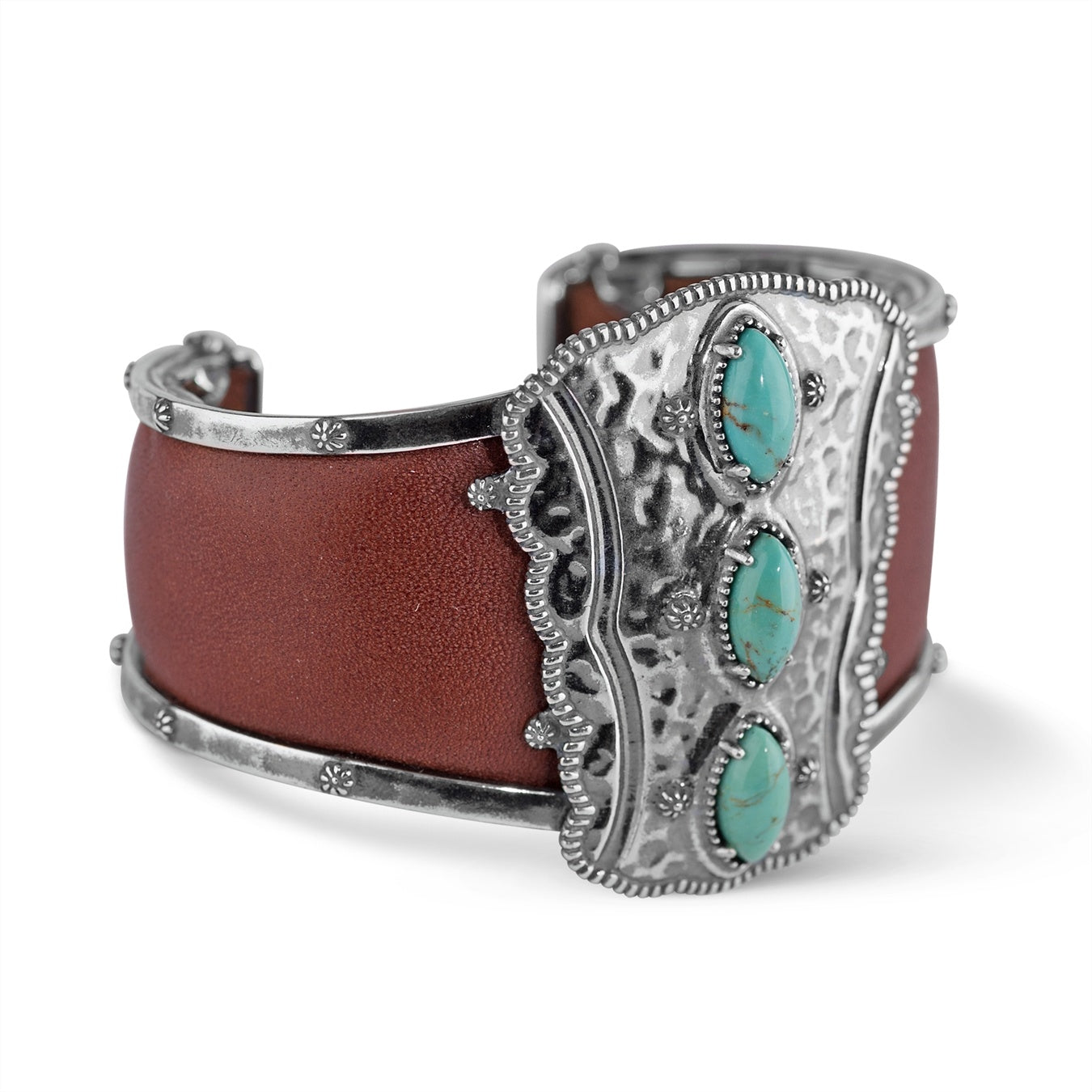 " The sterling shield on this cuff is beautiful, with gorgeous marquis pillows of turquoise – very blue green with some brown matrix – really pretty combination. I hate to return it because the turquoise is so beautiful, but the small is really small, and I think I would like the average better for some room. This cuff appears to have a little bendability to it, unlike the other large blue turquoise cuff with the 3 triangular pillows.
The shield looks like a ladies corset to me, especially with the 3 turquoise buttons! Very feminine with the lovely warm brown leather.
This cuff goes with many of my other turquoise pieces, and also with my Navajo ring with turquoise from the Royston Mine in Nevada – blue green with some copper matrix. Also goes nice with the AW brown leather watch, and the AW 36″ large bead necklace which has blue and blue green beads. I recommend sizing up. " – dollchu
" If you're looking for a WOW necklace this one isn't the one for you. However, I pair it with a Tiffany crystal and platinum pendant that I've worn every day for many years. Also, I add Carolyn Pollack's stone necklace in either Picture Jasper or Magnasite (spelling?) for a delicate boho look. The comments about the closure and inability to change length are correct but it works for me (5'3″ and small frame).. " -mightybit
" I ordered the set and I live it. I wish the necklace had adjustability. Would like to wear it a little tighter around the neck. I agree a bit over priced but have been looking for something like this in a more simplistic form. And I love Jennifer Nettles music. I will be watching more from her. " – Loved Lots
" I purchased the turquoise ring. It is a big bold ring that I wear on my middle finger. The design is unique, eye catching, and comfortable which makes it a wow piece. I rarely consider duplicating a purchase of jewelry but I am seriously considering the black spinal in this ring. I was definitely impressed with Ms. Nettles designs and look forward to seeing more. " – MO Shopper
" I am truly in awe of this beautiful design. I ordered my regular size and it fits like it was custom made just for me. It hugs my finger, doesn't turn or twist around, has a very beautiful and unique design. As a matter of fact, I'm back again to order the other two colors. Now if that isn't a testimonial, I don't know what is. Granted it may be a little overpowering for someone with small fingers, but I love bold jewelry, the bolder the better….add to that an outstanding design and what more could you ask for? " – LIS-A
Happy Trails!