I remember the first time I met the famous, award winning Santa Clara Pueblo potter, Jody Naranjo. It was through our relationship with the Southwestern Association for Indian Arts that we ventured into our first collaboration. Being one of the most awarded and collected artist at the Santa Fe Indian Market, I was a bit nervous when she first visited my design studio. Within minutes, we felt like kindred spirits. Our first piece was a pendant that was presented to all the pueblo potters of SWAIA in 2012. Soon after, Bill and I acquired our first, treasured Jody Naranjo pottery set.  It is called "Outside the Box", and truly represents Jody's unique approach to pottery. Being an eighth generation potter, Jody continues to use primitive, traditional techniques while expressing contemporary attitudes and whimsy. Every time I look at this pot, with its critters circling around it, my spirit immediately lifts.
Ceramic Etchings
Earlier this year we did a photo shoot with Jody at her home studio in Albuquerque, NM, where I fell instantly in love with an extraordinary pot she was working on featuring pueblo women figures. I watched Jody apply the finishing etchings and left her home, pot in hand, feeling truly blessed. I asked Jody if this could be the inspiration for our next jewelry collaboration. We both agreed that it would make a wonderful pendant to honor the strong, loving women in all our lives.
Her first Pendant!
I presented the first sample pendant to Jody this August at Santa Fe Indian Market and was overwhelmed by her joy. The many people in line at her booth to purchase her prized pottery also expressed Jody's infectious energy about this piece. My day felt complete, and it was only 7am!
Dear Friend
I am honored to call Jody my dear friend and am so proud to share that Jody Naranjo is the recipient of this year's New Mexico Governor's Award for Excellence in the Arts. We decided it was most appropriate to celebrate this honor, and our friendship, with a cuff bracelet featuring Jody's signature whimsical, yet powerful, animal figures featured on my first piece of Jody's pottery.  We hope this piece brings you joy as you look down at your hand and think of those who've touched you, and the many you touch.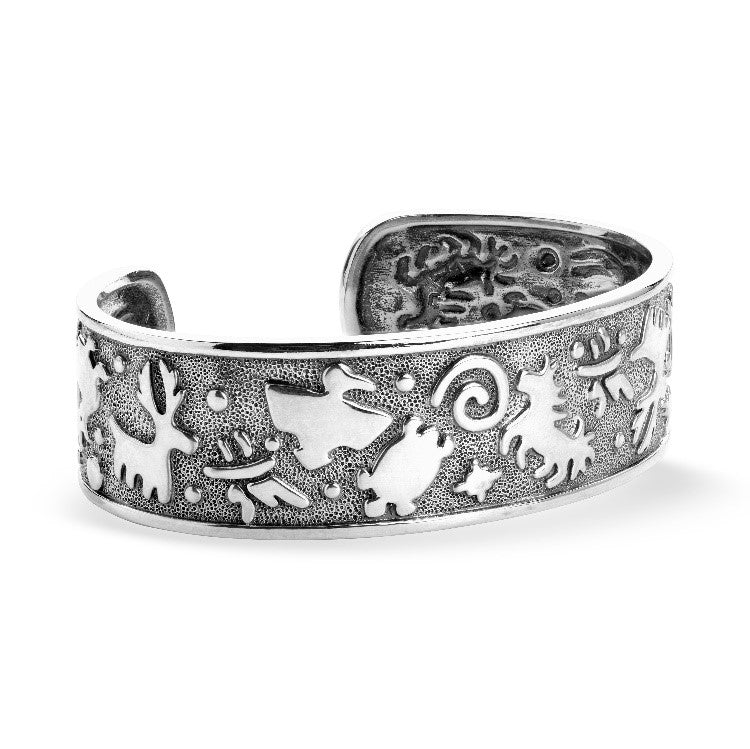 Works of Art
As you can imagine, Jody's hands are works of art themselves, carrying within them a layering of knowledge and skill passed down to her from her mother and other female relatives – now transferred on to her own three beautiful and talented daughters. Jody has what I call "smiling hands," and it has been nothing but a joyous experience being able to work so closely with her and get a glimpse into her own amazing, creative mind. We jive together the way old friends do, and from it, I feel we have created some of my favorite pieces to date.
May you be blessed with the joy and strength of friendship.
Love, Carolyn