Summer Along the Turquoise Trail! Summer means road trip time! New Mexico is a gold mine of destination day-trips and one of our favorites happens to be the Turquoise Trail between Albuquerque and Santa Fe. Named for one of our favorite things in the world, the Turquoise Trail got its name for the rich turquoise deposits that were found and mined along the 52-mile byway.
In today's blog we will take you to stop numero uno along this famous road — Madrid. The first thing you have to know about Madrid is that the locals pronounce it with a hard "a," rather than the Spanish lilt of its namesake. This is just the first of many eccentricities that make "Mad-rid" a true hidden gem nestled in a canyon in the Ortiz Mountains. Founded in in 1869, Madrid found itself a large scale coal mine by the 1980s when the railroad arrived.
 Today it is home to about 400 residents and has become a ghost town reimagined as a quaint and quirky artists' haven. In the village you will find several bustling galleries, shops, and the notoriously haunted Mine Shaft Tavern. The Mine Shaft is the pulse of the village, a fun and friendly meeting spot for locals and out-of-towners. With delicious food, good drinks, and great live music – including some well known traveling acts – the Mine Shaft is worth the visit alone.
At this unique waterin' hole don't be surprised to find the town dog (who belongs to everyone and no one) wandering from table to table politely looking for a treat. Or, strike up a conversation with the self-appointed town marshal who regularly dresses in Wyatt Earp-esque attire. Or plan your visit accordingly and immerse yourself in the color and culture of one of the town's many festivals, such as the Gypsy Festival on June 23, or the CrawDaddy Blues Fest on May 19-20.
 Don't plan a trip to Madrid unless you're prepared to enjoy some art. At the Gypsy Gem you can find a large selection of rare New Mexico turquoise, while at the Indigo Gallery you can enjoy local fine art and jewelry, or hop over to the Metallo Gallery and shop their unique metal work and other eclectic art.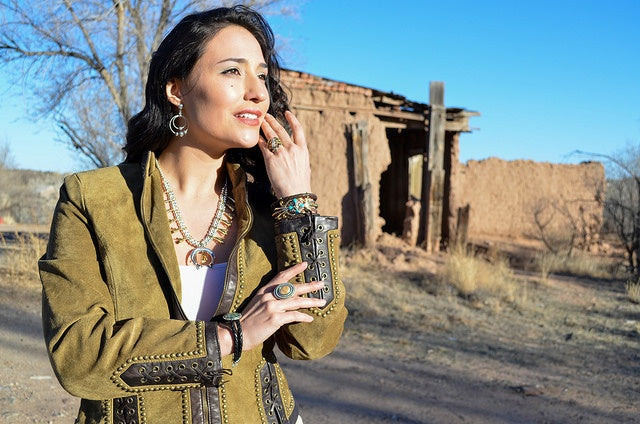 Pack your camera and your adventure and embark to stop one on the trail, and shop the look HERE for our Summer Along the Turquoise Trail look!