Nothing makes American West Jewelry more beautiful than the women who wear it. The moon-like smile of your eyes, the curve of your neck caught in a laugh, the artistry in the imperfection of your hands that tell stories words could never capture. These are the real gems and jewels that give our jewelry its value. This is why we've created our #AWYou series to showcase the amazing women in our community and abroad that bring spirit and life to what we do. We want to tell the amazing stories that make American West, well, You.
Nothing makes American West Jewelry more beautiful than the women who wear it.
This month's #AWYou celebrates the work and achievements of award-winning potter Jody Naranjo. We layered Jody in some of our favorite new pieces and set her loose in her Albuquerque studio to do what she does best. Jody is a beautiful Tewa potter of Santa Clara Pueblo, NM, whose work often depicts strong female and nature based themes. Her pottery, which she has been selling since she was just 15 years old, is produced in the traditional way using clay earth gathered from various location in the area, hand coiling, and pit firing.
As you can imagine, Jody's hands are works of art themselves, carrying within them a layering of knowledge and skill passed down to her from her mother and other female relatives – now transferred on to her own three daughters. Jody has what I call "smiling hands." Whether she is mixing her clay, polishing a pot, or etching in a design of one of her Pueblo girls, they do it with an eminence of joy. They are happy hands, hands that have spent their life doing what they love, hands that have raised daughters and created a million works of art that have blessed a million more with smiles. These are the hands of a creator, of a mother, of a friend.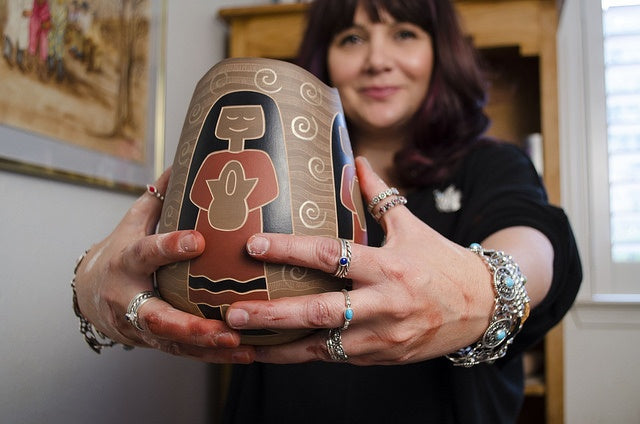 When we think of the ways in which Jody embodies who we are at American West Jewelry, we think of her fearlessness in honoring herself and her gifts. We think of the many ways she has shared these blessings with the people in her life, whether they be family or strangers. We too celebrate that independent spirit that drives women to carve out their own legacy. To be their own unique, vibrant person. It is this spirit that has shaped our American west.
 To become a part of our #AWYou series, please share photos of yourself in your favorite American West jewelry to any of our social media platforms, using the #AWYou hashtag, and tell us what makes American West Jewelry unique to you! We look forward to hearing from you.
Happy Trails!