Indian Market Artist Kathleen Wall is #AWYou! Following in the footsteps of many talented female potters, Jemez Pueblo multimedia artist Kathleen Wall carries clay in her blood.
"All of my mentors are women. They are all influential Pueblo potters," says Wall at her bright, airy studio in the heart ofPueblo nestled along the Rio Grande Valley at the fertile foothills of the Jemez Mountains. At just a short jog outside the hustle and bustle of New Mexico's biggest city, Jemez feels like a bucolic oasis of family, tradition, and history. "Inspiration is definitely my surroundings… The thing about the Pueblo potter is she's resilient to rejection. She's strong physically because making pottery in all aspects of it you have to be physically strong… You have to go market yourself and you have to have strength in order to survive off your artwork. I've had that inspiration from all my aunts and, also, other Pueblo potters."
With two BFAs in 3D and 2D arts from the Institute of American Indian Arts in Santa Fe, an incubator for many a celebrated artist, Wall is a diverse and cutting edge artist. She began her career as a teenager creating the storyteller dolls traditional to her Pueblo, then she studied sculpture during her first foray at IAIA, and later focus for on painting while earning her second degree. A success story right out the gate, upon graduating with her first BFA Wall says she was delighted to be accepted at the prestigious Santa Fe Indian Market. But that milestone was soon surpassed when to her astonishment she received her first blue ribbon.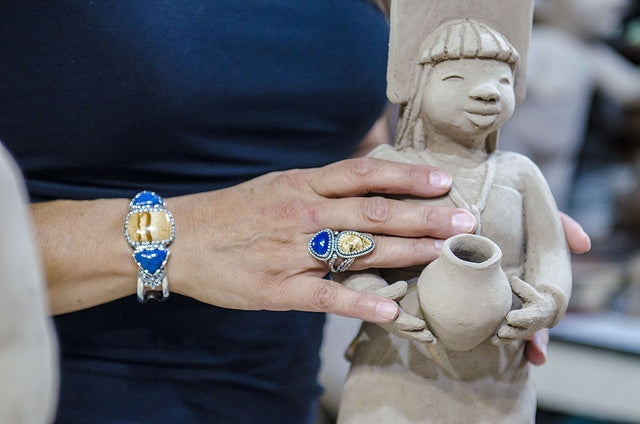 "I was taught to make storytellers as a young child," she says. "My mother and all five of her siblings made storytellers and they taught their daughters and granddaughters how to make them. I made storytellers from about 15 until around 19 when I veered away from the storyteller and started going more sculptural. I do like to revisit the storyteller, but I do it in my variation."
Since earning her first blue ribbon at the oldest and largest indigenous juried art show in the world, Wall has seen many more moments of success. Most recently one of her sculptures was accepted as the features artwork for the 2018 Santa Fe Chamber Music Festival, which has featured art by the likes of Georgia O'Keeffe. And of course with Indian Market just a few weeks away, Wall has been hard at work creating fresh, innovative pieces for her booth — #PAL222 on Palace Ave. Besides being a place to show and sell her at, Wall says to her and a lot of the other artists, market weekend is a creative reunion with friends and family from all over the world.
"Mine is a story of family, of heritage. I'm working with a lot of names and how Native American names connect to the person and the culture," she says. "Our names are so much a part of the culture that we celebrate. I'll do a painting of a Native American name and do a portrait of the person in front of the painting and sort of merge them together."
---
Ungelbah Davila is American West Jewelry's 

blogger

, lifestyle photographer and social media contributor. She is Navajo of the 'Áshįįhi Clan, as well as a native New Mexican of Spanish, Irish, and Sephardic ancestry. Her name, which in English means a woman who has been to war and lived to fight again, was passed to her from her maternal great-grandmother and is a source of personal power that influences the unique narrative she brings to her many art forms.