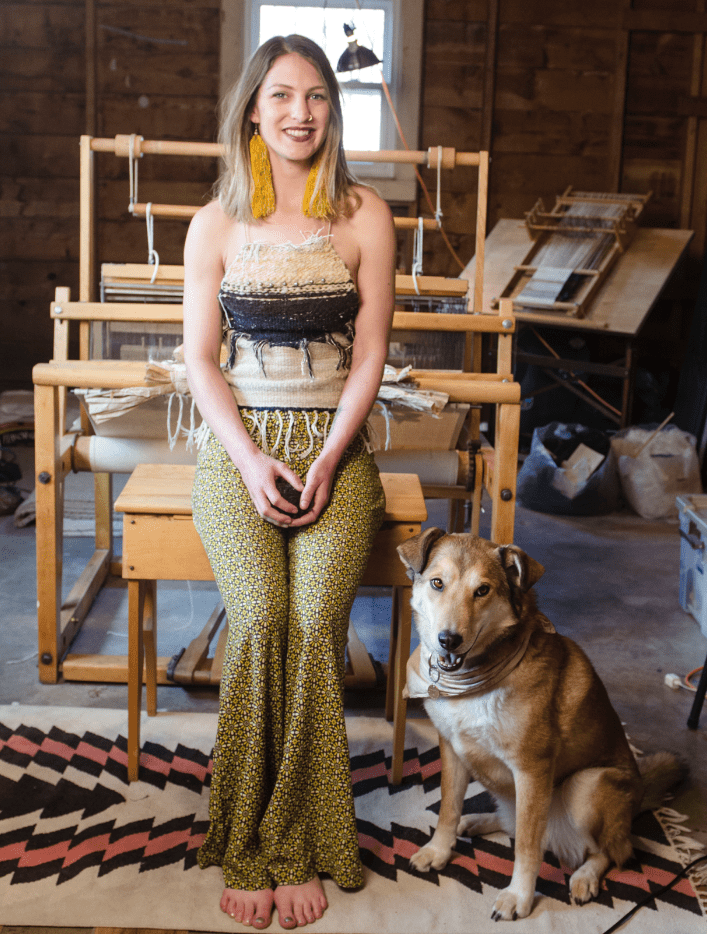 Meet New Mexico artist Ceinwen Carrejo, owner of The Fiber Room, and our June #AWYou featured artist. #AWYou is our latest project in which we find New Mexicans whom we feel embrace and represent the spirit of American West Jewelry. From her love of history and nature to her free spirit, when we met Ceinwen we knew she fit the ticket.
At home in her studio, Ceinwen whose name comes from her Welsh ancestry, sits at her 100 year old Leclerc treadle loom conducting what feels like a primordial rhythm of creation. Feet and hands, feet and hands, a piece of cloth slowly forms before her like magic. At her feet lays her beloved dog, who looks more coyote than hound, and around her the walls display spools of hand dyed yarn.
"I am in love with the process of weaving and how the pattern is inherent to the structure of the piece," she says. "It's literally all interwoven."
Ceinwen began learning the art of weaving in high school, and today owns a successful online store called The Fiber Room where she sells her handmade work to people around the world.
Click here to shop Ceinwen's look
She tells me her work is based around nature from the animals that produce the wool to the natural material she harvests herself to dye it.
"It is a craft rooted in tradition," she says.
Being amongst her tools and hearing her passion for this ancient craft, I recall time spent with my own grandmother, a traditional Navajo weaver who also worked with natural materials to produce a similar kind of art. For my and my grandmother's people, it was a holy deity who in the form of a spider who taught the Navajo to weave. Online I find a similar story amongst the Welsh and am reminded that in every pocket of the world the process of weaving is as ancient as it is sacred. Woven cloth was after all often the difference between life and death.
As I invade her creative space with my camera and my questions, I discover what it is that truly connects Ceinwen to the #AWYou campaign. It is bringing the crafts of our ancestors into a modern market without loosing the reverence for the work. But it is understanding the connection between the earth and her people, and how selflessly she gives of herself so that we are able to survive.
"I am inspired by the magic that comes out of the earth," Ceinwen says. "I'm inspired by the plants, the minerals – the unapologetic power of nature."
Connect with Ceinwen and The Fiber Room online: Instagram @thefiberroom & www.etsy.com/shop/TheFiberRoom