What makes Santa Fe a special place to visit for the holidays?  Everything!!  The skiing, the shopping, the sightseeing, the museums, having breakfast of blue corn pancakes at the Burrito company, lunch at a historic hotel on the plaza, and dinner at any number of small locally owned cantinas surrounding the plaza.  It is truly a magical place any time, but especially at Christmas.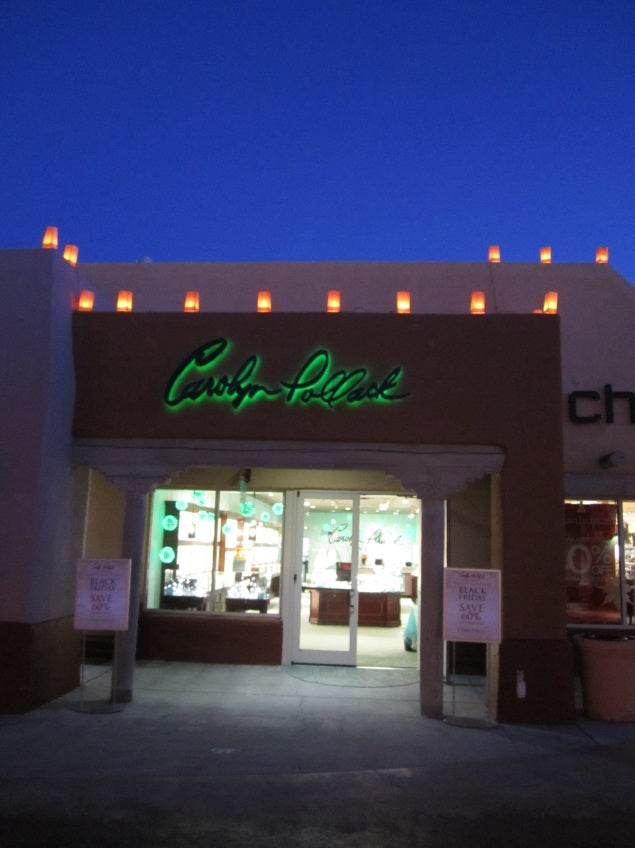 On December 12th, our very own Wanesia Spry Misquadace will be giving a talk about birch bark biting and quill medallions – you can also attend a short workshop and try your hand at quill embroidering a piece of birch bark! This will be held at the Museum of Indian Arts and Culture – check out their website for details.  While you are there, don't miss the Turquoise exhibit – for those of us that adore turquoise of all types, you will love this exhibit, it's absolutely fascinating – I could've spent a whole week there, learning about my favorite gem! Check out their fabulous gift shop – one of my favorite places to shop, you will even find jewelry from some favorite CP artists own pieces!
The next event on my calendar is on December 13th, the La Posadas begins about 5:30 pm which retells the story of Mary and Jesus looking for a place to give birth to Jesus. The procession begins at the Palace of the Governors, makes its way around the plaza, and ends back at the Palace of the Governors courtyard.  Afterwards, Christmas carols are sung and refreshments are served.  The entire evening is free!
What would Christmas be without music to celebrate?  The legendary and historic Lensic theater in Santa Fe, just off the plaza has many holiday events leading up to Christmas,  including the Nutcracker, symphonies, band and orchestra concerts, check out their website for all the details.
Christmas Eve on Canyon Road (and its side streets) is spectacular – the streets are lined with thousands of farolitos (paper lanterns filled with sand and a candle) glowing in the night.  Small bonfires called luminarias line the streets and fill the air with the smell of burning pinon – a fragrance like no other! The festivities begin around 5 pm – some galleries remain open and serve refreshments.  Don't forget to wear comfortable shoes, bring a flashlight, dress in warm layers and plan on a slow meandering pace, as most years around 30,000 people attend this event! Don't let those numbers scare you, everyone is in a festive mood, singing carols as they walk.  If you need a break from the crowded Canyon Road, jump over to the side streets, mainly Acequia Madre for a still magical display of farolitos, but at a somewhat more peaceful pace.
Any trip to Santa Fe would not be complete without a visit to our gallery in the Santa Fe outlet mall.  You will find many beautiful examples of our favorite jewelry, Carolyn Pollack.  We have a large selection of one of a kind pieces, retired pieces you've been searching for and many other treasures.  We will have extended store hours beginning after Thanksgiving to make shopping even more convenient for you.
These events are where you will find my family this holiday season – we cannot wait for the festivities to begin!! Christmas in Santa Fe is a very special time – you will never forget