5 Things to Do in New Mexico This Winter. Our mild winters and varied landscapes make New Mexico, in our opinion, the most beautiful state to visit this season. From sunny days in central and southern NM to the snowy wonderland of mountainous northern New Mexico, we have something beautiful for everyone! If you're looking for a Christmas destination or just a stay-cation, here are our top 5 favorite things to do and see in the Land of Enchantment this winter.
Albuquerque's Old Town Luminaria Tour A tradition unique to New Mexico, luminarias create an otherworldly experience this time of year. They are made up of candles placed inside paper bags and weighed down with sand, yet when aglow these simple lanterns create a magical experience along pathways and rooftops.  While you can witness luminarias all winter long in historic places like Old Town Albuquerque or the Santa Fe Plaza, since 1955 it has become a Christmas Eve tradition in Albuquerque to drink hot chocolate along a guided tour.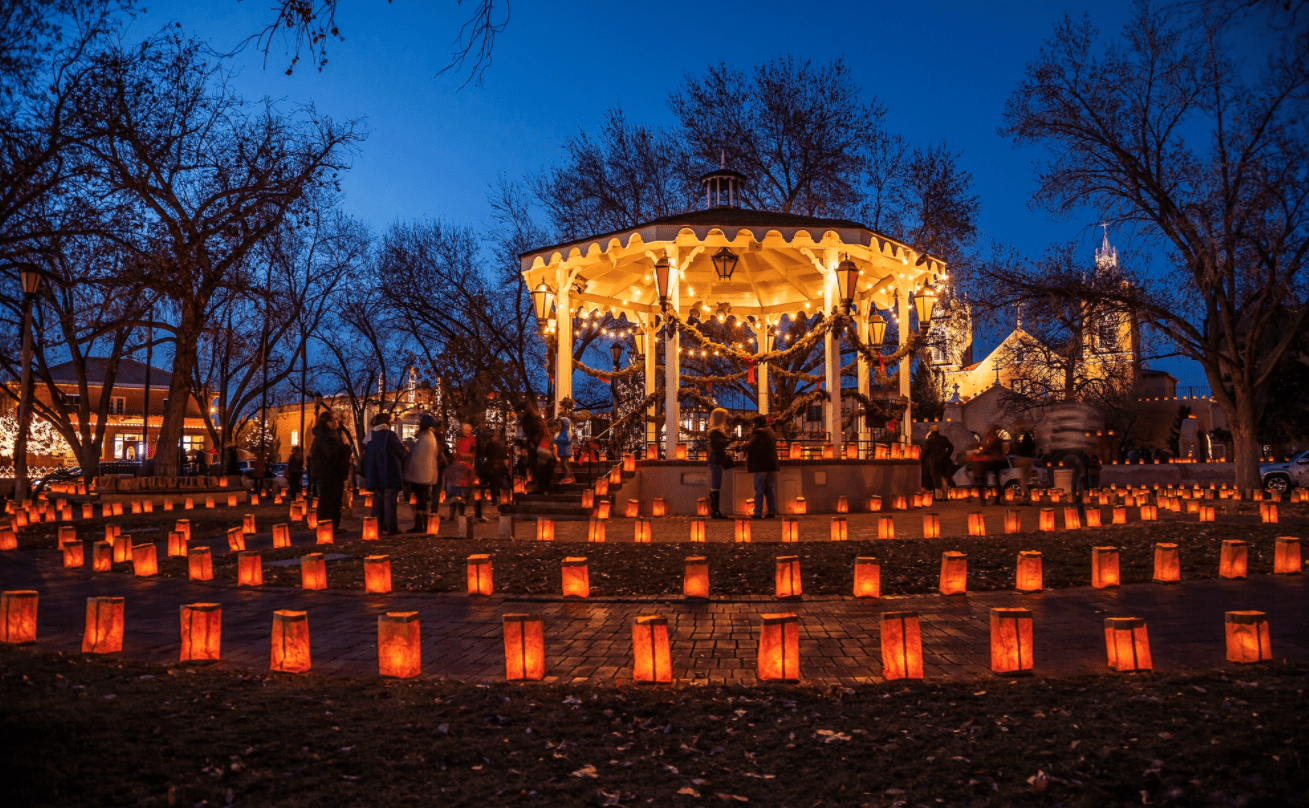 Ojo Caliente  << http://bit.ly/2ABZGSL>> : Remember those mild winters we mentioned? Well, they make for the perfect backdrop for a dip in one of the state's best hot springs.  With just enough snow to make it romantic, the Ojo Caliente Hot Springs have long been heralded for their medicinal properties. During the stress of the holiday season what could be more relaxing that a day-trip to Ojo, or, if you have extra time, a slumber party in one of their beautiful, newly remolded rentals.
Tamales << http://bit.ly/2n8uPr3>> : Are you a foodie? Then you're in luck. Christmas in New Mexico means tamales! These delectable bundles of goodness are a staple at the table this time of year and we have the 411 on where to buy them. Hey, you can even have them shipped! Posa's in Santa Fe has made a name for itself as the go-to location for tamale shopping.  They've never veered from their grandmother Aurora Lujan's original recipe.
Ski New Mexico << http://bit.ly/2zICbYj>> : Do you like to get down and dirty in the snow? NM is home to many epic ski runs & resorts. The three ski resorts of Taos Ski Valley, Red River and Angel Fire comprise the "Enchanted Circle." The highways connecting the areas form an 83-mile loop with the town of Taos on the west side, Red River on the north, and Angel Fire on the southwest. Also nearby, Sipapu is located about 20 miles southeast of Taos.
Winter Dances << http://bit.ly/2AbEUIL >>:  In the winter, the Pueblo people celebrate feast days where tribal members and the surrounding communities come together to celebrate cultural traditions. In breathtaking outdoor dances that beautifully blend traditional practices with Catholic elements. As the sun rises over the Sangre de Cristo Mountains on January 1, dancers from Taos Pueblo perform the ceremonial Turtle Dance in ornate clothing to celebrate the new year. Nambe and Acoma pueblos celebrate King's Day on January 6, in honor of new leadership, with Antelope, Buffalo, and Deer Dances performed to the beat of handcrafted drums.